For security purposes (yours and ours), we recommend you need to enable javascript in order to sign in. Thank you.
We have detected that you are either running an older version of Internet Explorer, or are running in 'Compatibility Mode'.
If you are running Internet Explorer 8, de-select the 'Compatibility Mode' button next to your browser's address bar, as indicated below: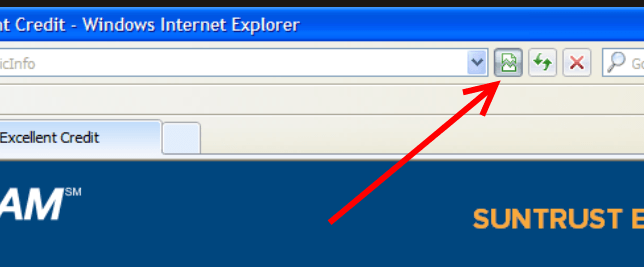 Customer Sign In
Learn more about how LightStream loans can be used to finance:
and Anything Else!
...or other financing needs!
At LightStream, we care about the environment and, more importantly, we try to do something about it. For one, we have created a paperless consumer loan experience at LightStream. By eliminating paper almost entirely from the LightStream loan process, we not only save our natural resources but we save on expenses as well, better enabling us to offer you highly competitive interest rates.
In addition, for every loan that we fund for our customers, we will have a tree planted in one of our country's fragile habitat communities currently under restoration.
×
By clicking Continue, you will be taken to a third-party Web site which is not affiliated with LightStream, a division of SunTrust Bank. The privacy policy, level of security or accessibility standards may differ from ours. We encourage you to review the privacy policy and security offered on the third-party site prior to providing any personal information. LightStream is not responsible for and does not endorse, guarantee or monitor content, availability, viewpoints, partners, advertisers, products or services that are offered or expressed on third-party Web sites. You can click the Return to LightStream.com button now to return to the previous page or you can use the Back button on your browser after you leave.