How It Works...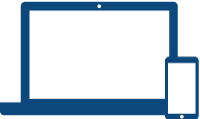 1 Apply Online
You will receive a response shortly (during business hours).
2 Accept Loan Agreement
Once approved, e-sign your loan agreement and set up your loan for funding.

3 That's it! Use Your Loan.
Receive your funds as early as today.†
It's that simple. We're so confident that you will love the experience, we guarantee it.
You can fund your loan today if today is a banking business day, your application is approved, and you complete the following steps by 2:30 p.m. Eastern time: (1) review and electronically sign your loan agreement; (2) provide us with your funding preferences and relevant banking information; and (3) complete the final verification process.